As Bean approaches being two years old, we've noticed her fussiness from not being able to communicate easily have become more frequent. She doesn't have full blown tantrums, it's just not her nature, her fussiness lasts 20seconds. Tops. She does have big emotions for such a tiny being, and those can be overwhelming. I think after having to understand dogs and cats for so long, that translating to toddler with some words was easy enough, so understanding her isnt too hard for us. That understanding definitely cuts down on the "tantrums".
My husband and I are also very good at acknowledging her when she's upset,
"I'm sorry you're frustrated/upset because you can't have a piece of chocolate right now, you can have one after dinner when it's time for dessert. Right now do you want some blueberries? Or would you like to play with your toys instead?" "I know the wet/dry vacuum is very scary! Shhh it's okay, I won't let it hurt you. Lets go snuggle until the pine needles are all cleaned up."
She may not speak the words, but she understands them. Giving her two to three options to choose from still lets her feel in control, but controls her control to something that we find appropriate for her to choose from. Win win! She knows she feels frustrated, or scared, but doesn't know how to express her emotions, I also believe labeling the emotions is calming for her.
Oh, that's what this crazy emotion is called!
If you're on
Pinterest
, I'm sure you've seen this one floating around out there. The Glitter Jar! Most sites say they use it for their kids to watch as they calm down, I can totally see how this would help with that. Perhaps we'll use it that way when Bean's older.. But for now it's just a fun thing for her to shake up, and watch. A year round glitter globe type of thing!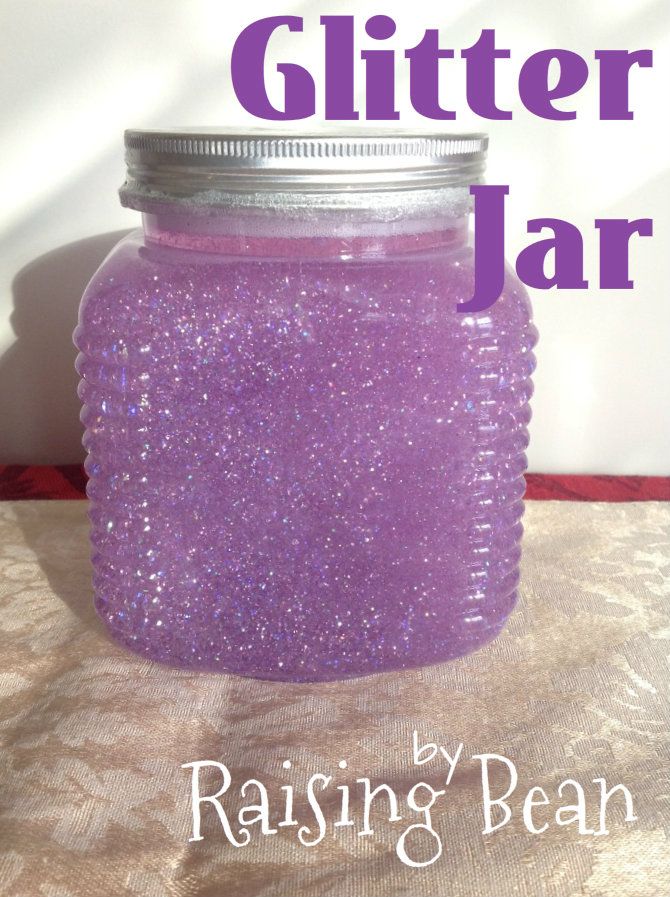 Here's what you'll need:
A jar
(I picked up a plastic one from a arts & crafts store, so my on-the-go 19 month old could handle it unsupervised, but a mason jar would work also.)
glitter glue
extra glitter
hot water
All you have to do is mix 1 tablespoon of glitter glue in with every 1 cup of hot water used to fill the jar. Then add in the additional glitter, and shake shake shake! Keep adding more glitter until you get the look you want.
After that I permanently glued the lid onto the jar, inside and out. Sealed that bad boy right up! Last thing I want is for Bean to figure out how to open it and glittery glue water go everywhere. Yikes!