Kim, from
The Sasse Life
, has been awesome enough to Feature me on this weeks Sunday Social! Thanks Kim!
2. Follow the Featured blog.
3. Link up your
blog's home page
-- not a specific link or you will be deleted!
4. Visit at least 2 other blogs and make some friends!
5. Let your friends know by posting this button. The more, the merrier!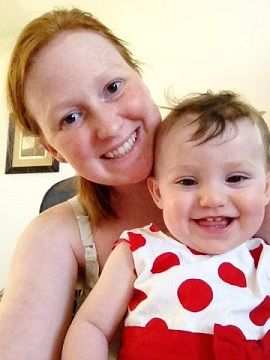 Hi! I'm Mar, I used to be a veterinary technician, but now I'm a
full time stay at home mommy. My blog is all about my life, and raising
my daughter. Full of stories, concerns, and adorable photos of my little
bean, readers can go through my thoughts and step into our life as
attached parents. I refer to myself as crunchy, but not full granola,
and my baby girl is a huge adventurer who's always laughing, and making
me laugh right along with her. The recent TIME Magazine article created
huge debates between moms about attachment parenting, or not, my blog
will help you see what a life as an attached family is really like. It's
normal, I swear! So head over and take a look, if nothing else you can
just stare at the cute pictures of my adorable bean!
1. I write left handed, but do everything else right handed
2. The bed has to be made before I can get into it. But I'm too lazy to make it every morning so I usually make it right before I go to sleep.
3. I desperately want to own a dairy cow.
4. Putting on my mascara with my mouth closed is impossible.
5. I rewrote the chorus to Lady Gaga's "Edge Of Glory" to "the poops on the edge of the diaper.." and I sing it to my little bean every time I clean up a #2.



Let's Get Social!