My little girl has always loved water. She hears the faucet pounding water on the bottom of the bathtub starting to fill it up, and she goes racing over as fast as her little hands and knees will allow her to crawl. Next she stands up points st the rushing water that is quickly filling up the big white tub in her hall bathroom, and signs 'please' over and over again until she's stripped down buck naked and sitting in the perfectly warm water surrounded by her toys. Recently she's also started the try to throw her leg over the side and climb in! Silly Bean! Luckily her tub is still a little too tall for her to be able to climb in.
So with the warm weather, and summer quickly approaching, my thoughts have turned to the pool. I am so excited to take her there as much as possible this summer! She has two of the cutest swimsuits, I went and bout some cute, flattering one pieces from TJMaxx for myself, we have sunscreen and sun hats, we're all set! Then my husband brought up a good point, what if she doesn't like the pool because it's not warm water. Ugh. What if?! Then all my excited dreams will be just that, and never become reality. So we went to Walmart and bought her a little wading pool for our backyard. Blowing that bad boy up took forever. Multiple valves, thousands of breaths, and minutes of lightheadedness later it was finally inflated! We took it out to the back yard and filled it up. Once our little bean was in her Bummis swim diaper and a bathing suit I plopped her in the pool. She was not too thrilled the first few minutes. She sat there, perfectly still, with a puzzled look all over her little round face. After a few minutes, with the addition of a tennis ball (her favorite outside toy) she was enjoying herself. She even climbed back in after we took her out. Swimming pool success!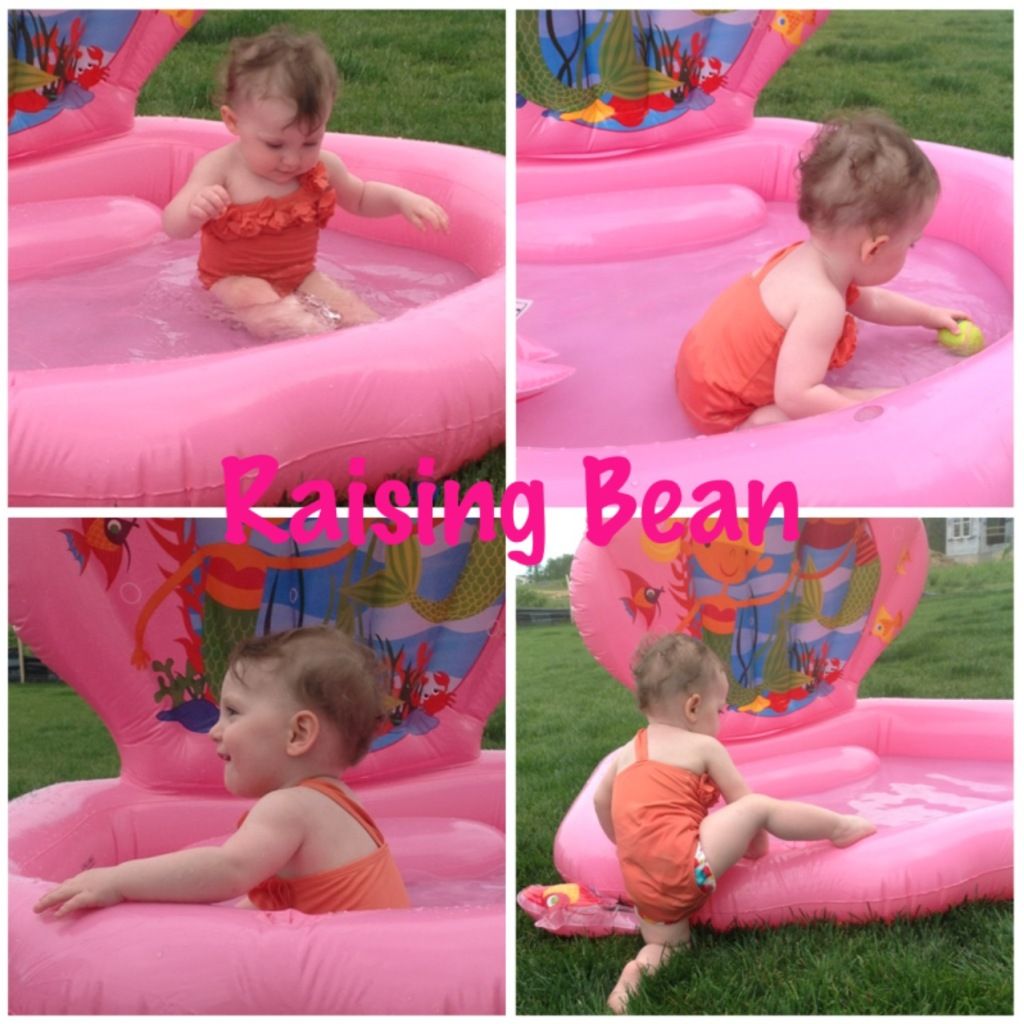 Another fun activity we did this week was a water "table". I filled up a storage tub with water, put it over towels on our kitchen floor, and tossed in some toys. My water bean thought this was the best thing ever! Splashing everywhere, poured water all over our floors. She was in heaven, my husband in hell. Don't get me wrong he loved seeing her have so much simple, free, fun. But he was not even slightly impressed with the water being everywhere. At this point more towels were brought in for back up! As I walked back into the kitchen with reinforcements, my dear husband is making himself a cup of coffee and Bean has crawled, clothes and all, into the water table. Once some of the new kitchen river was contained, I stripped my sweet girl of her dripping wet clothes, and grovia diaper. She then proceeded to have a "bath" until her fingers were prunes, and lunch was ready.
I really love seeing her explore, and watch how she handles, and learns from every new situation. Her willingness never ceases to amaze me. By seeing how open she is to the world, it has reopened my eyes to the world also. I'm starting to see things in a new perspective, and really appreciate the small things that I took for granted for so many years.