Hey friends, today I'd like you to meet my friend Kate who blogs about her family over at
Innes Family v3.0
. She's super cool, and has some great ideas on fun things to do with your kiddos. Today she's going to give you some tips on traveling with your youngster.
Well folks, it has happened--we went on a family vacation. I'm not talking about the weekend away or going to the relatives for Thanksgiving....I'm talking about the week away, staying in a hotel/friends place, site seeing, tourist thing. I am happy to report that we survived, and if hubby and I can do it with a crazy fast moving two year old, you can too! Here's how.
First a bit of back story. It has been almost 2 years since I have seen my mom and my sister. They both came for a visit when Duncan was born, but the distance between our old home in Colorado and Michigan was just too great--flying was so expensive and we just didn't have that type of extra cash available. So... when we moved to Virginia, I secretly rejoiced--we were a 12 hour drive away (versus 28 in Colorado). That meant I was bound and determined that our family would pay a visit to West Michigan, sit on the beach, and see my family!
So how to survive? Well, here are my tips.
First, pack carefully. As you can see, this was the back of our car. Yes, it looks like we are packed for a year instead of 7 days, but really we used everything here. Here's our list...
-Suitcase for mom and dad
-suitcase for Duncan
-just in case medicines -- children's benedryl, Tylenol, zyertec, calamine lotion, neosporin, band-aids, tums and Advil (for mom and dad)
-enough diapers and wipes to get us there
-beach bag pre-prepped with bathing suits, towels, floaties, sunscreen, Aloe Vera spray, bug spray, and some beach toys.
-stroller (medium sized so we could stuff things in the bottom)
-pack and play (our son is just starting to transition to a toddler bed so this was the better option for the trip).
-extra snack bag with additional sodas, drink boxes, water bottles, snacks, and road food (to refill when needed)--don't forget an extra sippy cup or two.
-power cords for all the electronics (phones, tablet, gps, video camera)
-my pillow (I have to sleep with my pillow--crazy I know)
Next came the backseat where along with the car seat, I packed our cooler full of goodies, sandwiches, strawberries, cucumber, celery, drinks, and other snack food for the road. (My son's favorite thing of all--- gummy bears -- go figure)
-Duncan's soft blankie and monkey were with him
-our travel DVD player--this by far is the best investment my husband and I made for our trip. We got a travel DVD player so our son could watch his beloved Thomas the Tank Engine or Shawn the Sheep when he wanted. And just so you know, it was not on the whole trip (which was one of my fears, he watched maybe 20-30 minutes at a time. Most time he actually spent playing with...
-TOYS. Here is a great tip I got from my Mother-in-law. A few days before the trip, I began putting "away" Duncan's favorite toys into a travel bag. Then when we got on the road, every hour or so, we would pull out one of those toys and give it to him. It was like new toys all over again!!! He had a ball. We made a crown (freebie from a stop at BK for drinks) and some matching cards were also a hit, along with his cars, crayons/coloring book, board books, and dinosaurs.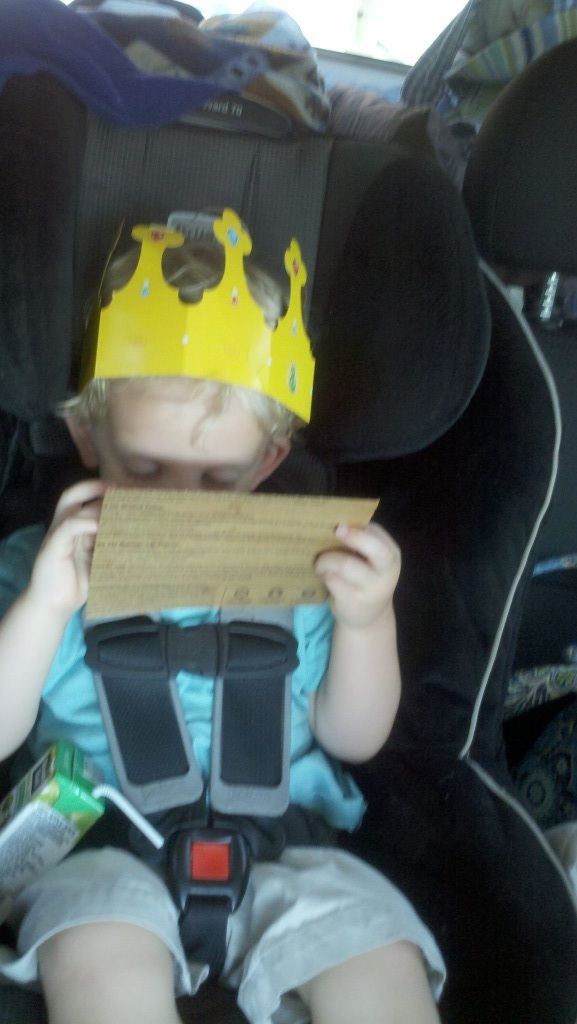 Finally, here are my "we're here" tips.
-when you can, buy at your destination. We bought extra diapers, wipes, swim diapers, and toddler things when we arrived.
-Realize that your schedule that you have at home will be thrown out the window. We aimed for 3 meals, 2 snacks, a nap and a consistent bedtime routine (not so much time) to stay on track. There were some days that all three of us fell into bed at 10:30 at night, or that nap time didn't happen until 3pm, but we found that the time didn't so much matter with Duncan, it was the routine.
-Be sure to plan lots of fun activities, but go with the flow. Some examples, a quick trip to the children's splash park before our 4th of July picnic turned into a 2 hours fun for all, our day at the beach turned into a morning at the beach because someone didn't want to share his toys with others... things like this happen and it's just the way it goes.
Remember that you are on vacation to have fun, and have it. Enjoy playing on swings, building sand castles, making memories. I have so many amazing memories (and pictures too). I can't wait for our next vacation.