So yesterday was the first time my poor little been vomited. :( She never had a fever, she was just pathetically pukey.
It all started around 5pm, that's when the first episode happened. It was right after a big nursing session and her daddy tossing her in the air. We thought the combination of those two things, with the addition of having been out in the smoldering, sticky heat for half an hour just prior. About 30 minutes later we sat down for dinner, she seemed interested in food and picked up a piece of asparagus then proceeded to throw up two more times in her high chair. After those two episodes we put her on the ground and let her go run around because since she had just vomited, I assumed she wouldn't be hungry. Well, we all know what they say about assuming... It makes an elephant fly! Wait, that's not right...
Anyyyyywho.. She was interested in eating and came running back, sat in my lap and ate some corn kernels and asparagus.
"See you later, friends!"
I said to the corn, as I always do, little did I know how literal that phrase would become. We took her temp, no fever thank goodness! The rest of the evening played out normally, Hubs went to work, Bean and I fed the dogs and let them outside to go potty. Then we played for a little bit and went upstairs to put little bean to bed. No more thoughts or worries about her being sick. So in pjs, nursing in are bed, she falls asleep easily. But isn't staying asleep, which has become a semi-normal occurrence recently -- Damn you teething! She nurses on and off for the next hour, which I don't mind because I just started the second Hunger Games book (yes I'm very late to jump on this bandwagon), and I'm reading/involved in it on my kindle iPod app. Around 8pm she wakes up, and flops around the bed trying to get comfortable. I lie there faking sleep hoping it tricks her and she goes back to bed. I mean, eyes closed, mouth relaxed open, heavy, slow breathing faking sleeping. The kids smart, you gotta fake hardcore for her to believe it. Well, it doesn't matter because little did I know I was about to find out why she couldn't sleep.
Bean sat straight up and puked everything, dinner and all the breastmilk she had consumed all over me and our bed. Awesome. It's warm, full of corn and chewed asparagus, and now Bean, our bed, and I smell like sour breastmilk vomit. Attractive. She's crying and I scoop her up and walk towards the bathtub, the second round comes. This time mostly on me and a few drops dribble off my shoulder into the carpet.
So once were both out of our vomit clothes, and I've cleaned the puked off my arm and out of her hair, which hours early had been in adorable pigtails. This is getting lengthy, I'll wrap it up quickly for you...
We spent half the night on the couch, she threw up a total of six times, never had a fever. The last puke extravaganza was at 930 all over two couch cushions, smelled as delicious as the first ones, and covered the new set of clean clothes I had changed into. Luckily I had left my little girl in just her diaper so her cleanup job was easier. But she was clingy so I couldn't remake the bed. I gave her an ice chip every 15 minutes until she fell asleep on me, on the couch around 11. My husband came home early to help, and made the bed. We went upstairs at 2am, I let her nurse a little, stopped her after a few sucks, and walked her for an hour trying to get her back to sleep. No dice. After the hubby and I took turns trying to walk her down, at 3am she hadn't puked up the little bit she had ingested, so I decided to let her nurse until she fell asleep. Thankfully she kept that down! The last time I looked at the clock was 330am. Bean was wide awake and perky and 730am, less than four hours of sleep.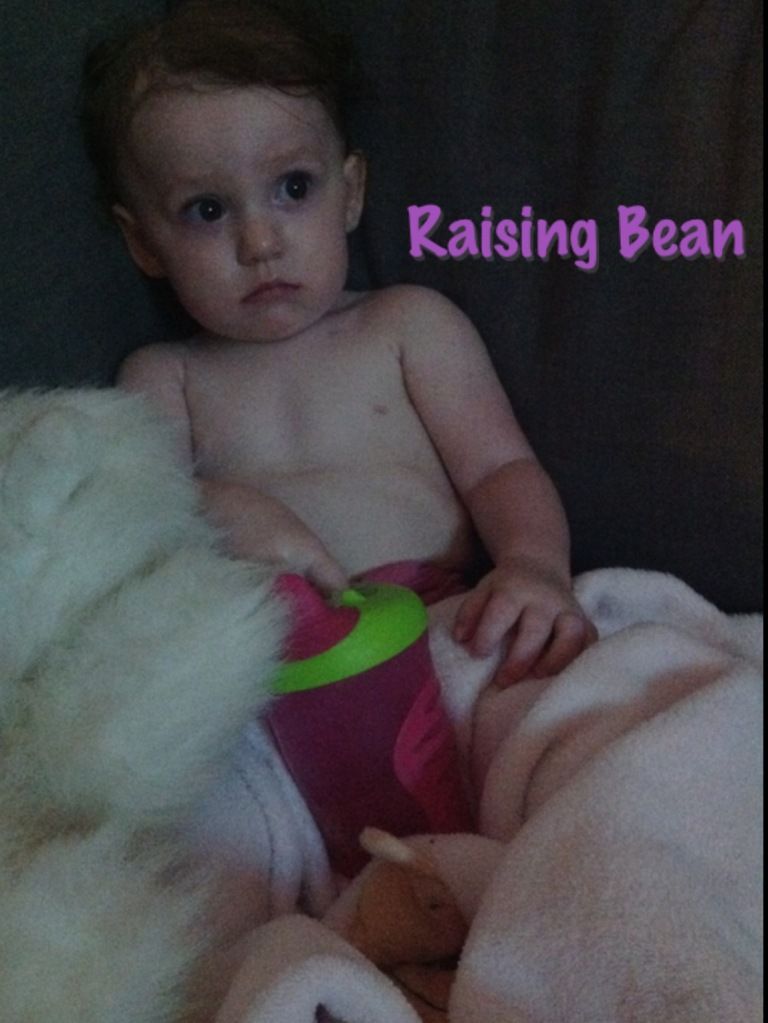 Oh caffeine you are my friend. I'm on the third cup of raspberry truffle coffee for the morning.